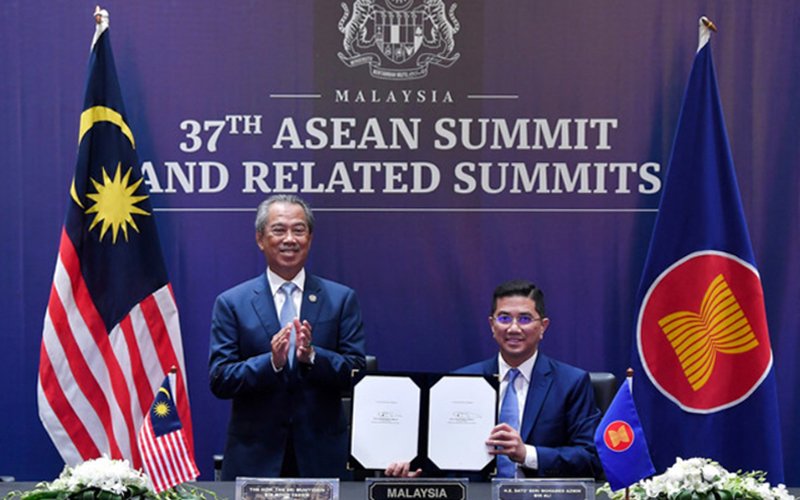 By: Ahmad Syukri bin Khusaini
(Currently pursuing International Masters in ASEAN Studies at Asia-Europe Institute, Universiti Malaya)
After 8 years, 31 rounds of negotiations, 8 Ministerial Meetings, 4 Summits and one withdrawal finally the Regional Comprehensive Economic Partnership (RCEP) Agreement have successfully been signed by 10 members of the Association of Southeast Asian Nations (ASEAN) along with Australia, New Zealand, China, South Korea and Japan. This momentous ceremony was held via video conference, hosted by this year's ASEAN chair Vietnam on November 15, 2020 making it the world's largest free trade bloc. In midst of the battle against COVID-19, RCEP gives ASEAN the hope and tool needed in rebuilding its economy post COVID-19.
RCEP is an ASEAN-centred initiative with the purpose of competing with other major regional integration initiative in the region such as the Comprehensive and Progressive Agreement for Trans-Pacific Partnership (CPTPP) or formerly known as Trans-Pacific Partnership (TPP) and the China-Korea-Japan FTA (CJK-FTA). The concept of RCEP was first proposed in 2011 during Indonesia's chairmanship of ASEAN where the ASEAN Framework for RCEP was adopted. And in 2012, leaders of the 16 countries (including India which withdrew in 2019) supported ASEAN's proposal and agreed to launch RCEP in Phnom Penh, Cambodia. Members of RCEP makes up around 2.1 billion people or a third of the world's population which concurrently account for 29 percent of global GDP. This is bigger than both the US-Mexico-Canada Agreement and The European Union.
After 8 years of negotiations, this trade deal is aimed at lowering tariffs, open up trade in services thus promotes investment which will help emerging economies to catch up with the rest of the world. Furthermore, RCEP will allow companies from signatory countries to export their product anywhere within the bloc without having to meet separate requirements for each country. This in return will help these companies to reduce the cost and time in doing business.
RCEP will play a significant role for economic recovery among the signatory countries especially for ASEAN member states which have suffered greatly due to COVID-19. It will encourage the reopening of markets and at the same time ensures no interruption in the supply chain. All this in return will sustain ASEAN's competitiveness as a region.
Nevertheless, there are also opinions which views RCEP signing as an extension of China's influence in the region. China's participation in RCEP is seen in line with President Xi Jinping's new economic strategy of "dual circulation" whereby refocusing on domestic demands while taking advantage of trade and foreign investment. India's withdrawal last year made China the biggest nation in terms of population and GDP in this bloc. This could potentially see China benefitting most out of this deal. Therefore, there is a high probability for a reaction from the US with the new US administration potentially focus more on Southeast Asian in its attempt to balance China's influence in the region. However, at the present time it is unclear whether the new US administration would rejoin CPTPP.
For Malaysia, the signing of RCEP could become the catalyst in revitalising its economy especially post COVID-19. There will be elimination and reduction of tariff for merchandise goods, including the facilitation of export and import of goods among RCEP signatory countries. This could provide Malaysian businesses the opportunity to strengthen its cross-border trade and economic ties with the signatory countries whilst maintaining Malaysia as the preferred trading hub and investment destination in this region. Thus, RCEP will also provide Malaysian companies with bigger market access thus enabling them to expand their businesses globally.
However, there also aspects of the deal that needs to be a concern to the government. In the instance of the withdrawal of India from RCEP. India was concerned the RCEP posed a potential threat to the local businesses. With the reduction and elimination of tariffs under RCEP, there is a believe that this will result in the market being flooded by imported products. Experts in India warned that India's large dairy industry would be impacted as Australia and New Zealand products could flood the Indian market which in return will kill-off small-scale local dairy producer.
Similarly, Malaysian businesses could face the same situation with the potential influx of products from other signatory countries, especially China. Thus, it is vital for Malaysian businesses to better prepare themselves and for the government to provide assistances, training and incentives that can help increase their ability and capacity for them to be competitive. The goal should be empowering Malaysian businesses to secure domestic market and also penetrate new markets within this region and beyond.
Apart from that, based on experience, the ratification process for a trade deal could be complicated especially when it is brought to the Parliament for it to be reviewed and debated. Although the sentiment this time might be different due to the proposal to have RCEP came from ASEAN itself. Nevertheless, only time will tell whether the ratification process will happen smoothly or face resistance.
The signing of RCEP was surely a historic landmark in ASEAN's history which would open a new chapter towards a more prosperous region. This achievement is truly a significant success of ASEAN's middle power diplomacy and the ability of taking charge of negotiation and seeing through it is a true testament of the might possessed by ASEAN based on "ASEAN centrality". This could also be the catalyst for ASEAN member states to rejuvenate its economies after being hit by the COVID-19 pandemic. However, there are six ASEAN member states and three other country that needs to ratify the agreement which could be complicated. Thus, the ratification process must not take too long as the delay could deter the economic recovery process post COVID-19. Therefore, it is hoped that the ratification process could be done swiftly and RCEP would become the instrument which helps ASEAN realise its full potential especially in becoming the fourth largest economy by 2030.
** The views expressed are those of the author and do not necessarily reflect those of M-Update