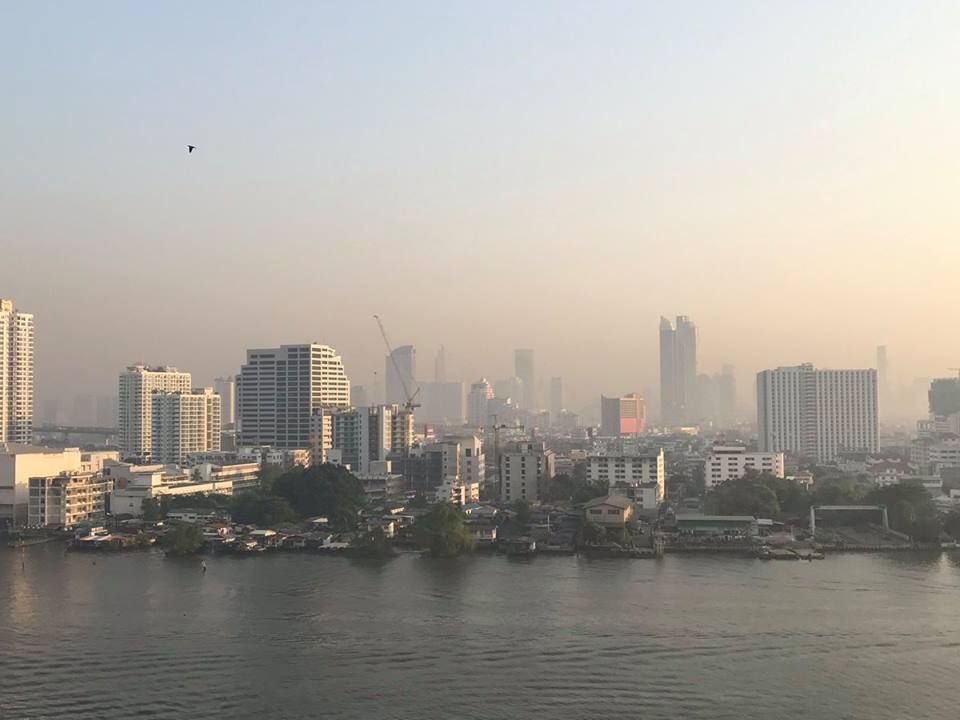 M Update, 29/1/2019 – Photo Courtesy of the Jor Sor 100 radio station's Twitter account: Smog hovers over tall buildings on the bank of Chao Phraya River in Charoenkrung area as of 7.45am on Tuesday.
Greater Bangkok's air pollution was severe on Tuesday morning, with 36 locations reporting the amount of PM2.5 (inhalable particles with diameters sized at 2.5 micrometres or smaller) rising beyond the safety limit of 50 micrograms of PM2.5 per cubic metre of air, with one area reaching as high as 113 micrograms.
The Pollution Control Department (PCD) said the situation in all areas with high PM2.5 levels has to be "might not improve" in the afternoon in the event of a breeze.
The breeze is too low to blow the dust away, but just enough to stir up dust toe make the affected are worsen in the afternoon on Tuesday.
The PCD daily PM2.5 update noted that at 7am, the worst air in the city was a roadside spot on Rama II in Samut Sakhon's Muang district, which was flagged code-red with a reading of 113 micrograms. The next highest monitoring machine was a Kanchanapisek roadside spot in Bangkok's Bang Khun Thien district at 75 micrograms, followed by a Rama II roadside spot in Bang Khunthien at 74 micrograms.
Source: The Nation Thailand