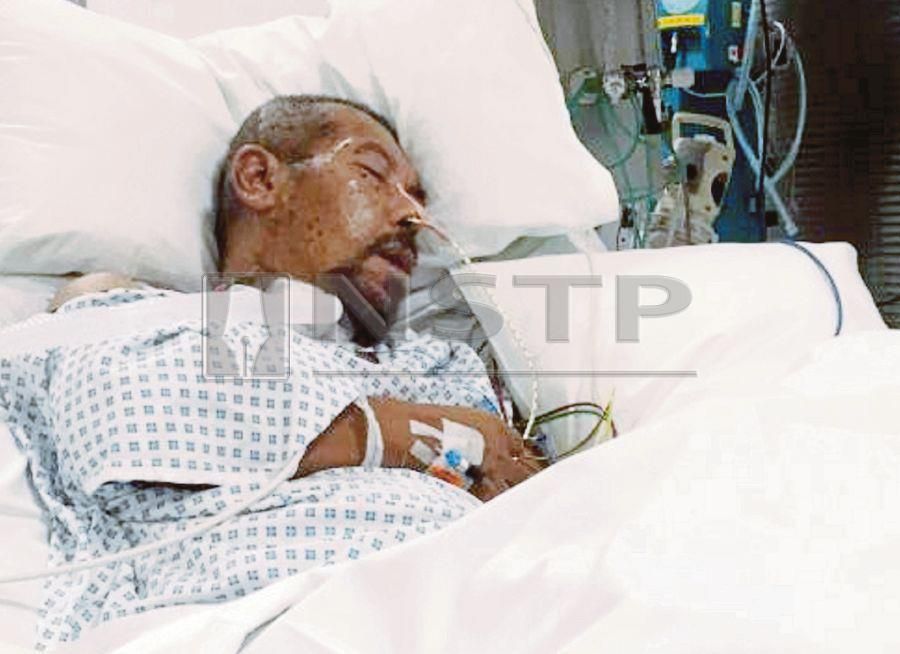 M Update 17/1/2019 – SAHROM Ahmad, 57, arrived home yesterday evening to gentle whispers of ''Abuya, we are home,'' from daughter Nur 'Amalina.
This was the culmination of a heart-rending saga that had gripped Malaysians for more than a month.
Sahrom, a Tenaga Nasional Bhd (TNB) retiree, had journeyed to London to attend Nur 'Amalina's graduation, but landed at Charing Cross Hospital, having suffered from a stroke.
Yesterday, as the Malaysia Airlines flight arrived at the Kuala Lumpur International Airport (KLIA), Sahrom responded to 28-year-old Nur Amalina's soothing words with tears.
He had been conscious and reacted when nasi lemak was served during the flight.
Earlier on Tuesday, Sahrom was handed over by Charing Cross Hospital to a team of volunteers who had arrived from Malaysia.
At Heathrow Airport, Sahrom was the first to be brought on board with seats 38 to 40 A, B, C and D reserved for the proud father.
Sahrom, strapped onto a stretcher and accompanied by medical teams from Malaysia and London, touched down at KLIA close to 6pm yesterday.
The journey was made possible thanks to the generosity of fellow Malaysians of all races and religions, organisations and many more.
He was a model patient on Flight MH1 from London. He couldn't have had a better and more efficient team — the First ambulance service, Medevac and volunteers who attended to his every need during the flight.
Dr Gunalan Palari, who is experienced in such missions said: "It was the smoothest I have ever seen".
The volunteer team of medical personnel included Dr Gunalan, Lt-Col (Rtd) Datuk Dr Jaseemuddeen Abu Baker and Steven Penefort, who flew in from Malaysia, and Dr Fahja Ismail from London.
Aided by Malaysia Airlines' staff and those from the Malaysian High Commission in London, everything went smo othly.
The flight was not full. Passengers and crew watched from a respectful distance, while offering their prayers.
Nur 'Amalina, accompanied by her aunt Norehan Desa, felt a palpable sense of relief when the plane landed.
She assured her father and kept telling him everything was fine. Every time she did so, there were tears in his eyes.
On arrival, they were met by TNB staff and many well-wishers.
The heavy rain did nothing to dampen the Malaysian spirit to ensure Sahrom was back safely in the land he was born.
Sources : New Straits Times