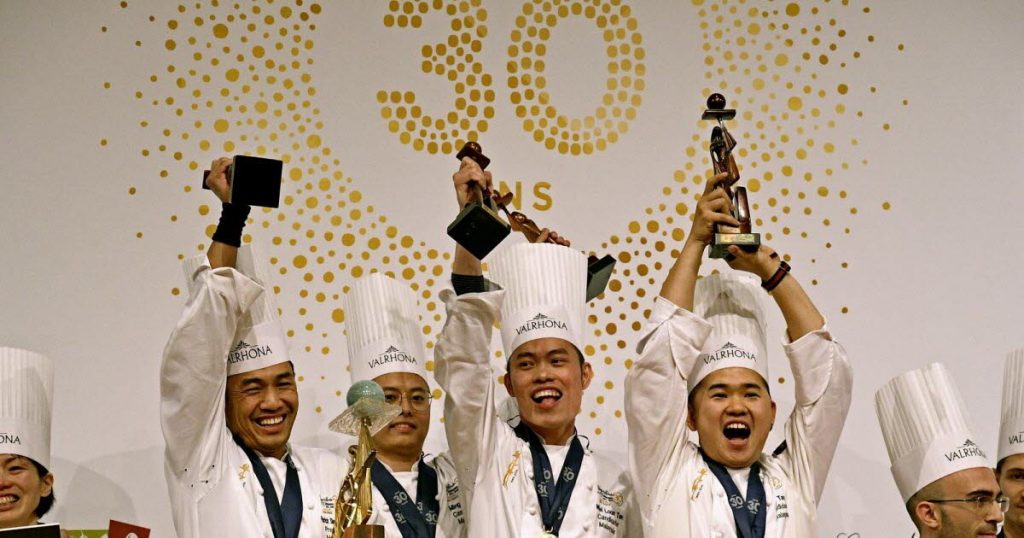 M Update 29/1/2019 – National Pastry Team have been crowned champions of the World Pastry Cup ( or Coupe du Monde de la Patisserie in French) for 2019. The team were leading by Chef Patrick Siau, and contestants Tan Wei Loon, Otto Tay and Loi Ming Ai, beat the teams from Japan and Italy in the final of the competition held on Monday (Jan 28).
Twenty-one countries took part in the final of a competition organised every two years, under the banner of the Lyon Gastronomy Fair. Competitors had 10 hours to prepare a dessert based on chocolate and honey, a frozen desert made of fruit, and one without any butter, cream, eggs or any other animal product. In addition the teams had to produce three sculptures, of chocolate, sugar and ice cream.
The World Pastry Cup is an international pastry contest that is held biannually in Lyon, France. This year's edition, which was held from Jan 27-28, marks the 30th anniversary of the competition. The competition is held to recognise the best young pastry talents from around the world, with a selection process involving more than fifty national rounds and four continental selection events in Africa, Asia, Latin America and Europe.
The theme for this year's competition was Nature, Flora and Fauna, and it also introduced a whole new challenge: teams had to come up with a 100% vegan dessert that does not use any product of animal origin.
Other challenges included have to create a chocolate dessert with a biscuit necessarily made of honey, as well at least one transparent item made with blown sugar. – The Star Online