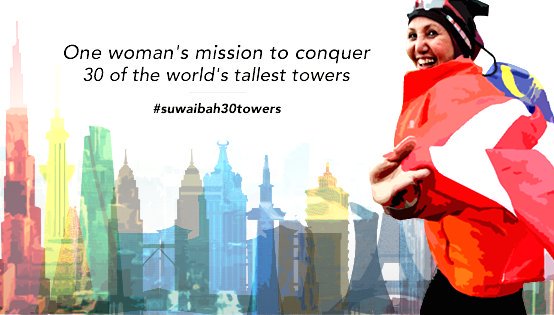 M Update, 8/2/2019 – National woman solo runner Major Dr Suwaibah Muhammad Nasir is in a mission to conquer the word's top 30 towers by 2020.
Dr Suwaibah, 46, said she would begin her mission with the Southeast Asian leg of the solo run by conquering three towers in the Philippines at the end of February, Marina Bay Sands, Singapore (200 meters) in March and the Ostankino Tower in Moscow (540 meters) in April.
To complete the mission, she would make physical training and mental preparation, to be able to cope with various challenges especially in different weather conditions. She also mention that she expect to be able to take four tower a month and reckon it will take two years to complete the mission of conquering 30 towers.
Besides that, GISB Holding Sdn Bhd had come forward to sponsor the flight tickets and accommodation. She would need RM4 milion in funds that she needs to cover the high costs of accommodation, airline tickets, visa application and related matters in order to capture the 30 towers.
Previously, Dr Suwaibah had captured three towers namely the Avala Tower (250 meters) in Belgrade, Serbia on August 31, 2016; Baiyoke Sky Tower (309 meters) in Bangkok, Thailand, and Gama Tower, Jakarta, Indonesia last year.
Elaborating, Dr Suwaibah who hails from Kampung Lubuk Rotan Tawar, Tanah Merah, said she would try to complete the Southeast Asian run first, and at the same time submit her application to the other designated countries under the Humanitarian Tour to Conquer 30 World's Tallest Towers mission.