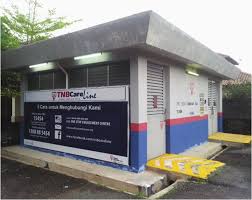 M Update, 13/2/2019 – A man is in critical condition after he was electrocuted while trying to steal an iron cable at the electrical substation near a petrol station in Chuah, here.
Port Dickson police chief Superintendent Aidi Shah Mohamed said the 27-year-old suspect was acting alone in the 12.05pm incident. He said as soon as the cable was dismantled, a loud boom was heard and the areas from Taman Merah Site C until Bukit Palong suffered power outage.
"The public who witnessed the incident called the police. The team found that the barbed-wire fence at the substation had been cut," he said. Aidi Sham added that a witness said the suspect, who suffered burns with his shirt torn up, fled the scene on a motorcycle.
"Acting on the information, the police made a check at the Port Dickson Hospital Emergency Unit. The suspect was confirmed to have been receiving treatment for the burns on his face and on 20 per cent of his body," he said.
The suspect has been transferred to Tuanku Ja'afar Hospital and was reported to be in a critical condition. Checks found that the suspect is married and resides in Taman Lukut Makmur here. He has been arrested before for theft and drug-related offence," Aidi Sham added.
"We were informed that the substation supplies high-voltage electricity. For now, the investigation is still ongoing and the suspect will be arrested as soon as his condition is stable," he said.
A technician from Tenaga Nasional Berhad (TNB) did a check and found a component missing at the substation.
Sources : NST Online