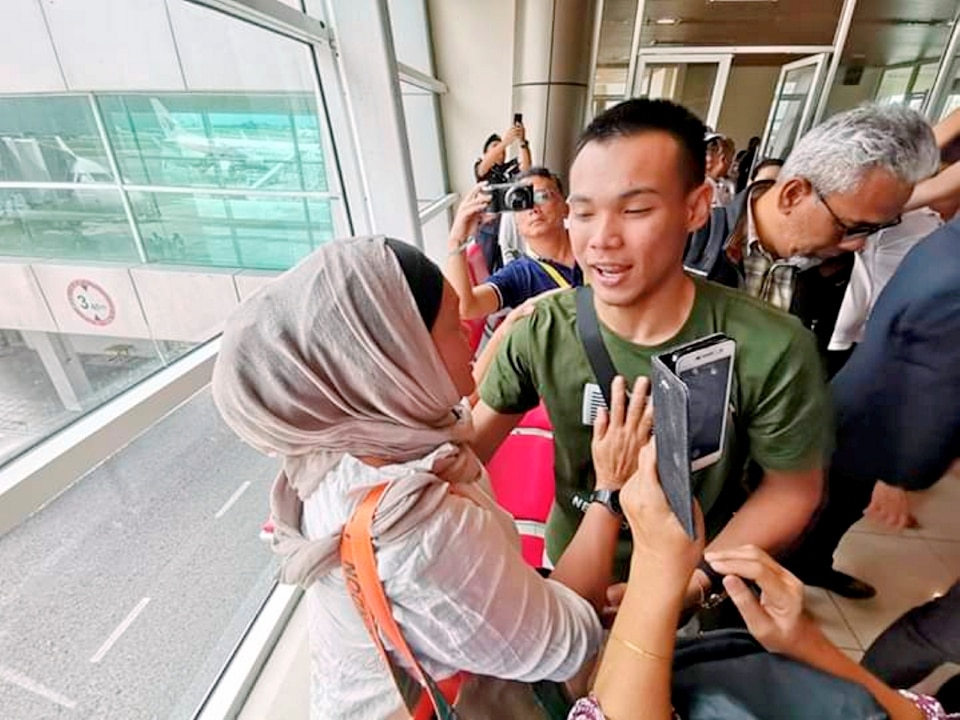 M Update, 18/2/2019 – One of the 47 Malaysian detainees in Cambodia reminded everyone not to be easily fooled by job offers posted on social media. Muhamad Daud Sharuddin, 23, said he, and 46 other Malaysians, were enticed by a US$1,200 (RM4,901) a month job offer as a hotel worker, which was posted on the WeChat application. That so-called lucrative offer led to all of us being cheated.
"I began realising that the job offer was dubious, when the so-called agent seized our passports and mobile phones once we arrived there (Cambodia)," he told newsmen at klia2 on Sunday (Feb 17).
The group of Malaysians were kept in a house in Cambodia for two months and not allowed to go anywhere, he added. We stayed at the house, until Cambodian authorities raided it and arrested all of us. From there, we were imprisoned for more than two months," he said.
The Cambodian authorities raided the location where they were kept, as they suspected that the syndicate was running illegal online gambling activities and fraud. Being an inmate is an experience I will never forget. Other youngsters out there should not to be fooled by fake job offers on social media," he said.
Muhamad Daud arrived at klia2, along with three other Malaysians – Yap Yu Xiang, 25, Yeam Yoke Foong, 26, dan Ng Shing Long, 27 – via AirAsia flight AK543. Ng recalled the hardship he faced in prison.
"Life in prison was tough, I even needed to beg for water. (Being in prison) is a hard lesson to learn, but it will be a constant reminder to be wary of dubious job offers," he said.
They were among 47 Malaysians, whom Wisma Putra confirmed were detained in Cambodia since Dec 11 last year on charges of cheating, and initiating and carrying out illegal online gambling activities.
They were then released from Banteay Meanchey Provincial Prison on Friday (Feb 15), after several rounds of discussions between the Cambodian and Malaysian governments. International Non-Governmental Organisation head Datuk Dr Mustapha Ahmad Marican said Cambodian Prime Minister Hun Sen approved the release after finding that they were duped by a job agency syndicate.
Sources : The Star Online