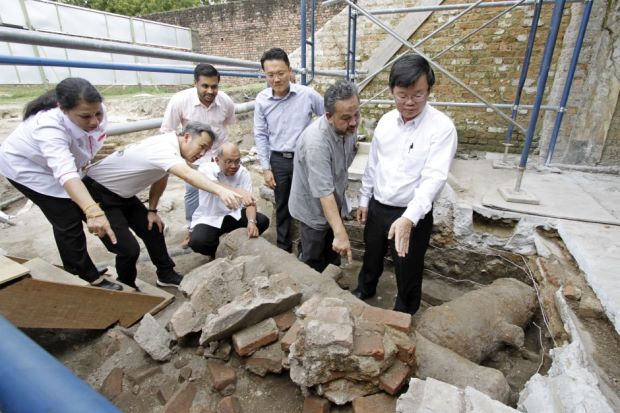 M-Update,28/1/2019, GEORGE TOWN: An excavation at Fort Cornwallis has unearthed another cannon and a mortar. The two large guns were discovered during archaeological excavation work overseen by Universiti Sains Malaysia (USM) and Jabatan Warisan Negara.
Penang chief archaeologist Datuk Dr Mokhtar Saidin said the two guns were in addition to the twin cannons buried 1.2m below ground next to Fort Cornwallis discovered in February last year."There could be several more cannons buried below the ground, which could give a complete history of Fort Cornwallis during the time of the British and Japanese occupation," said Dr Mokhtar during the visit to the site by Chief Minister Chow Kon Yeow.
Dr Mokhtar, who is also the Global Archaeological Research Centre director at USM said the two guns were buried side by side at a depth of 37cm.Other remnants and artefacts found during include two copper coins with a bale mark of the 'United East India Company', with the year 1787 stamped on them.
Also found previously were pre- and post-World War 2 structures as well as concrete trolley tracks connected to the Japanese occupation of Malaya from 1941-1945.The excavation is part of efforts to develop a drainage plan and resolve flooding issues in front of the fort's storeroom, expected to be completed by the end of the year.
–The Star