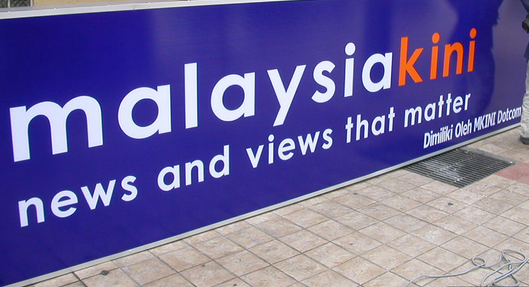 M Update, 19/2/2021 – The Federal Court, in a 6-1 majority ruling, today found the Malaysiakini news portal guilty of scandalising the judiciary in publishing readers' comments last year.
However, the bench, led by Court of Appeal president Rohana Yusof, acquitted its editor-in-chief Steven Gan. Nallini Pathmanathan was the dissenting judge.
Rohana said they were satisfied that Mkini Dotcom Sdn Bhd, the company which runs Malaysiakini, failed to rebut the prosecution's case beyond reasonable doubt.
"The presumption that it had knowledge of the offensive comments that were published had not been rebutted," she said.
As such, she said, Malaysiakini is guilty of contempt of court.
Rohana said the prosecution had failed to establish a case that Gan had facilitated in the publication of the comments. She said the case had attracted worldwide attention and led to speculation it would lead to clampdown on media independence.
"However, the law does not allow unwarranted attacks on the judiciary," she said, adding that Malaysiakini owes a duty to see to that.
The court broke for a short recess after hearing submissions from lawyers on aggravating and mitigating factors before sentence was passed down on Malaysiakini.
Also on the panel were Chief Judge of the High Court of Malaya Azahar Mohamed, Chief Judge of Sabah and Sarawak Abang Iskandar Abang Hashim and Federal Court judges Mohd Zawawi Salleh, Vernon Ong Lam Kiat and Abdul Rahman Sebli.
The court was told the readers' comments were removed 12 minutes later.
Lawyer Malik Imtiaz Sarwar had submitted that the Malaysian Communications and Multimedia Commission (MCMC) required content providers to remove offensive articles or comments within two working days. He said Malaysiakini had also complied with the content code registered with MCMC under which it was not required to practise censorship.
Senior federal counsel S Narkunavathy said Malaysiakini had facilitated the publication of the comments. "Once there is a presumption, the burden to rebut the publication shifts to the news portal," she said. Narkunavathy also said Malaysiakini should have installed a software system to prevent the publication of offensive comments.
Attorney-General Idrus Harun began contempt proceedings against Malaysiakini and Gan on June 16. He said they had facilitated the publication of comments by readers which undermined the country's judiciary. The comments in question appeared in an article dated June 9, 2020 titled "CJ orders all courts to be fully operational from July 1".
Idrus said the comments "clearly meant that the judiciary committed wrongdoing, is involved in corruption, does not uphold justice and compromised its integrity".
"These comments threaten public confidence in the judiciary and are clearly aimed at tarnishing the administration of justice," he added.
Source: FMT
It is hence easy to determine whether or not the dose you took is adequate. viagra for sale However, it is also important to remember that it takes a while to start working, and each patient is different.