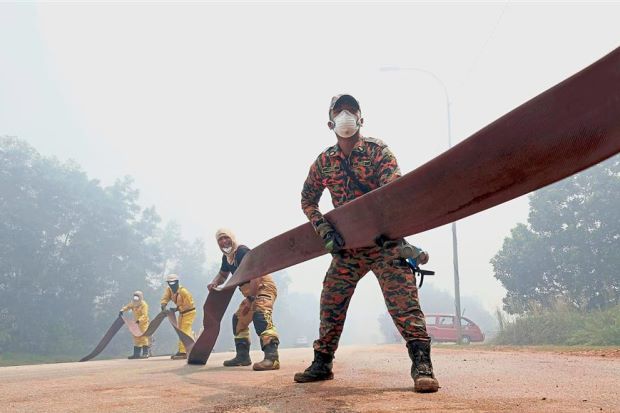 M-Update,28/2/2019, Kuantan: A fire is raging across some 60ha of land in the Gebeng industrial area and threatening to spread further as alerts go up around the country in the face of a heatwave. The scorching hot weather is expected to last until the end of next month. State Fire and Rescue Department director Nor Hisham Mohammad said firemen from the Gebeng station, with the cooperation from the Gebeng Emergency Mutual Aid team, were on standby round the clock to put out the fire and control it from spreading.
Nor Hisham said so far, only 20% of the affected area had been put out and they had requested aerial assistance from headquarters for the operation. "We responded immediately to prevent the fire from spreading by digging up certain parts of the monsoon drain to block the water flow so that it will rise to the ground level and act as a barrier," Nor Hisham said.
Sixty hectares is about the size of 85 football fields.Although it was still uncertain how the fire started, it was believed that anglers could have left a campfire unattended while fishing at a nearby lake. "Fortunately, the developed areas which consist of buildings and factories are situated far away.
"Our job is risky as there's also peat. That is challenging to deal with," he added.He lauded the efforts of Lynas Corporation, Petronas Chemicals MTBE, Kaneka and a few other companies there which assisted in the operation. Nor Hisham said certain areas had poor visibility due to the thick smoke and urged motorists to switch on their headlights while on the road. Earlier this month, firemen had to battle flames on Gunung Baling in Kedah after a fire broke out there due to the hot and dry weather.
This followed reports from Indonesia's Riau Disaster Management Agency of forest fires, which started in January, and resulted in haze.As of yesterday, the fire in Riau province of Sumatra has spread to 1,136ha.
–TheStar